Fristam Pumps places a strong emphasis on hygienic design, making their pumps suitable for applications where cleanliness and product integrity are critical, such as in food processing, dairy production, and pharmaceutical manufacturing. 

Innovative Hygienic Pump Solutions for Food, Beverage, and Pharmaceutical Industries
Fristam Pumps specializes in manufacturing high-quality pumps and equipment for various industries, particularly in the food, beverage, and pharmaceutical sectors. They are known for their innovative designs, reliable performance, and hygienic standards.
Fristam Pumps offers a wide range of pump solutions, including centrifugal pumps, positive displacement pumps, and shear pumps. These pumps are designed to handle different types of fluids, such as liquids, viscous materials, and delicate or shear-sensitive products.
In addition to pumps, Fristam also manufactures other equipment, such as mixers, blenders, and homogenizers, which are used in various processing applications.
Fristam Pumps has a global presence and serves customers in many countries around the world. They have a strong reputation for providing reliable and efficient pumping solutions, backed by excellent customer service and technical support.
Connect with a Triangle team member to learn more!
Fristam Positive Displacement Pumps:

Fristam combines precision machining and innovative design to build sanitary positive displacement pumps that deliver gentle performance and a long service life. With circumferential piston, rotary lobe and helical rotary lobe PD pump options available, Fristam pumps streamline clean-in-place procedures and minimize maintenance.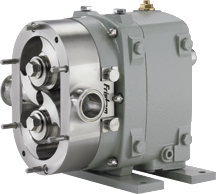 FKL Positive Displacement Pump
Large diameter shaft is stronger than most other competitors' solutions
Unique balanced rotor design reduces rotor-to-housing contact to prevent premature pump wear
Because pump cover and rotors do not need to be removed for cleaning, the FKL enables "true CIP"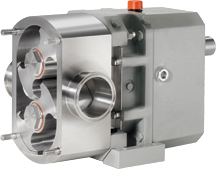 FL2 Positive Displacement Pump
Low-slip bi-wing rotor maintains efficiency even on low viscosity products or when trimmed for high temperature
Simple timing reduces maintenance and minimizes the potential for rotor-to-rotor contact
Available in sizes from 3/4" to 4" to pump products with viscosities up to 100,000 cps at pressures up to 170 PSI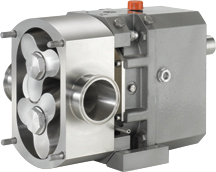 FL3 Positive Displacement Pump
Helical tri-lobes reduce noise and virtually eliminate pulsation for gentle pumping
Pump is engineered to operate at high speeds to facilitate high transfer capacity and clean-in-place processes, with rotors in place
Eliminates the need for both a transfer and CIP pump, saving time and money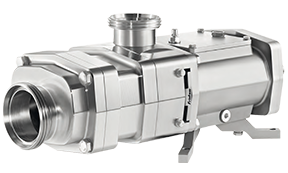 Fristam FDS Double Screw Pump
With the ability to pump viscosities of up to 1,000,000 cps and at speeds up to 3600 RPM, the FDS can successfully pump both high and low-viscosity mediums
Easily handles high differential pressures without overheating
Currently available in five sizes (FDS1, FDS2, FDS3, FDS4, FDS5).
Fristam Centrifugal Pumps:
Designed to provide a long service life, Fristam sanitary centrifugal pumps are constructed of heavy stainless steel materials and feature a unique internal seal engineered to provide years of performance. From standard duty to heavy duty, Fristam offers centrifugal pumps that drive production while streamlining energy costs, CIP processes and maintenance.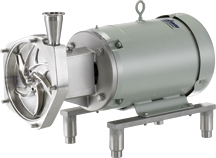 FPR Centrifugal Pump
Designed with a front-loading seal, the FPR allows the pump to be serviced in place without special tools
Pump shafts are designed to fit both single and double mechanical seal arrangements, reducing the number of shafts needed to stock for spare parts
Flow rates up to 2,000 gpm (7,570 lpm)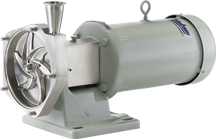 FP Centrifugal Pump
Heavy cast iron pedestal reduces noise and vibration while helping to dissipate heat for heavy-duty applications
Double mechanical seal option offers flexibility for vacuum withdrawal, aseptic processing, and abrasive products
Flow rates up to 900 gpm (3,400 lpm)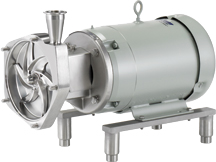 FPX Centrifugal Pump
Standard duty pump delivers smooth, quiet operation for most conventional applications
Single internal seal uses the cooling and lubrication of the product to provide longer seal life
Flow rates up to 900 gpm (3,400 lpm)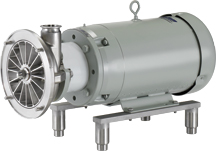 FZX Sanitary Liquid-Ring Pump
Using a specially designed impeller and housing, FZX pumps maintain their prime when other pumps become air-bound
Reduces product waste, processing and CIP times, and water usage
Flow rates up to 400 gpm (1,515 lpm)
Fristam Mixing Equipment:
Fristam's line of sanitary mixing equipment includes industrial mixers and blenders for powder induction, in-line blending and complete wet/dry blending. Mixers and blenders from Fristam improve product texture while reducing processing time. Engineered to minimize maintenance, Fristam's sanitary mixing equipment is designed with continuous duty and efficient CIP processes in mind.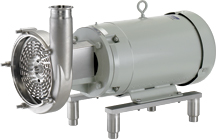 FS Shear Blender
Inline mixing enables products to be blended quickly
Rotor-stator design prevents lumps and masses in product, eliminating unblended product for improved product texture and consistent, repeatable results
Designed with a front-loading seal, the pump may be serviced in place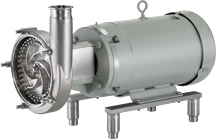 FSI Shear Pump
Integrated impeller provides high flow rates while still mixing product
Can also replace a pump and blender combination in many other processes, including finish/supplemental mixing
Designed with a front-loading seal, the pump may be serviced in place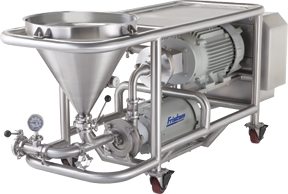 Fristam Powder Mixer
Devours lumps, clumps, and fisheyes, efficiently blending wet and dry ingredients into a fluid stream for consistent batches
Quick blending dramatically reduces process times
Ergonomic design eliminates ladder climbing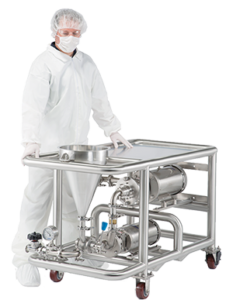 Fristam Powder Mixer Pilot
This lab-sized model of Fristam's Powder Mixer mixes batches as small as 5 gallons, enabling pharmaceutical, biopharmaceutical and personal care operations to scale up from R&D to commercial with the same system
High-intensity blending easily incorporates dextrose, sugar, Carbopol® and other powders to produce repeatable results for buffer solutions, syrups and other suspensions
Pump and blender system offers full CIP capabilities for dependable contamination prevention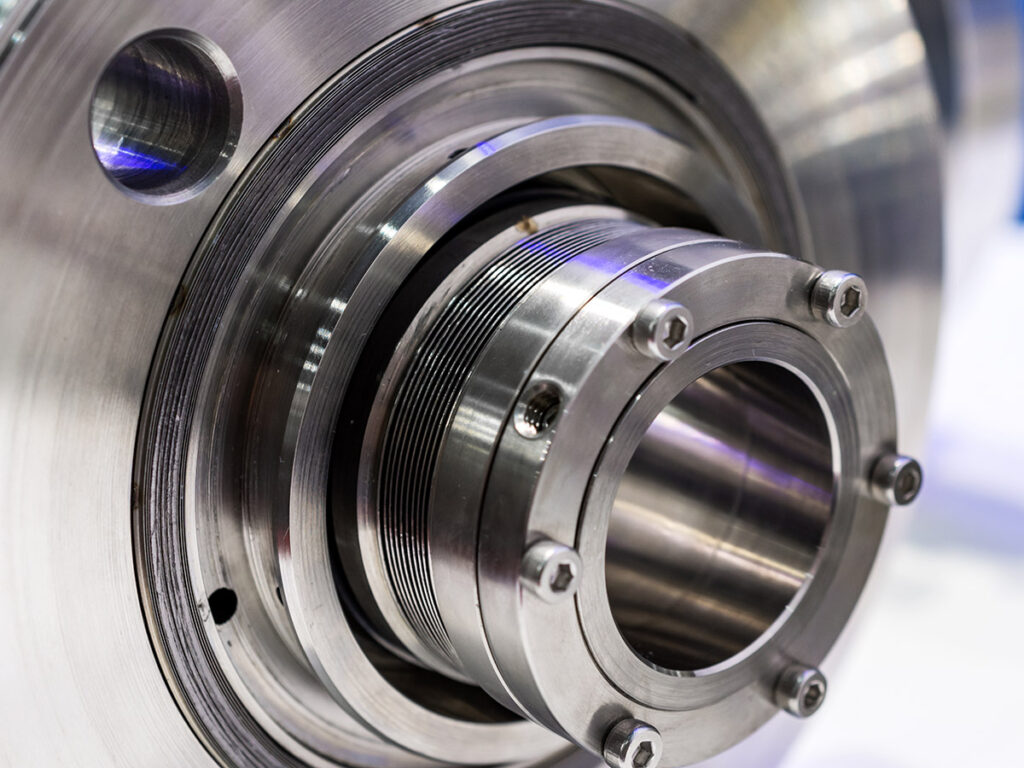 The Importance of Optimizing Sanitary Pump Performance for Product Quality and Safety
Sanitary pumps play a critical role in ensuring the quality and safety of food, pharmaceuticals, and other products. But did you know that optimizing the performance of these pumps is just as important as selecting the right pump for the job? In this blog post, we'll explore why optimizing sanitary pump performance is crucial for maintaining product quality and safety, and provide tips on how to do it effectively.
Speak With A Dedicated Process Equipment Representative

Triangle Process Equipment has developed an extensive product offering through partnerships with industry leading sanitary process manufacturers. With extensive experience in the industry, count on us to meet your needs while improving your facility's operation and efficiency.